MSI Afterburner: What is it and what is it for?
MSI Afterburner is a very complete software that allows us to make all kinds of modifications to our graphics card , we can control any parameter to define the best values ​​according to the scenario we have in mind, so in situations with less effort for the card we can obtain a saving of energy and less noise , but when necessary we can give it a cane , yes, to our liking.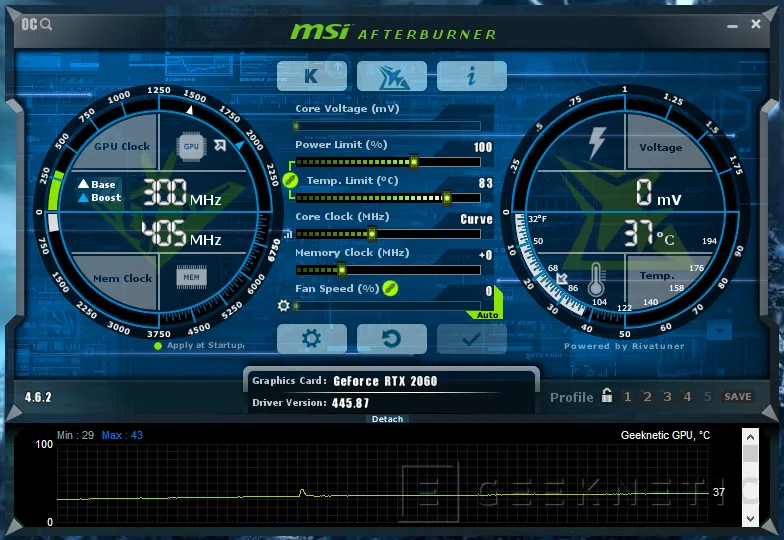 With MSI Afterburner we can control very specific graphics card values ​​to carry out maximum customization , as this configuration can also be saved in profiles, we can design different scenarios for each situation . It also allows us to customize many more options that have to do with the graphics or the overall performance of the equipment.
It is not necessary to have an MSI graphics card or an NVIDIA card , MSI Afterburner works with most graphics cards of any brand. This software is also generally associated with overclocking for the GPU, but it allows us to do many more things in addition to this, such as monitoring values, downclocking, preparing curves for ventilation, etc.
Overclocking our graphics card with MSI Afterburner
The first thing that occurs to us with MSI Afterburner is to overclock our graphics card , with this we manage to raise the clock frequency by making it work above its specifications, controlling the temperature we will not have a problem of any kind, according to the specifications of our card we can get more or less performance.
If we have an NVDIA RTX 20xx series card , we can safely overclock with the click of a button, since MSI Afterburner has this function. We will only have to click on OC in the upper left corner in our case, if you have another skin you just have to look for this option.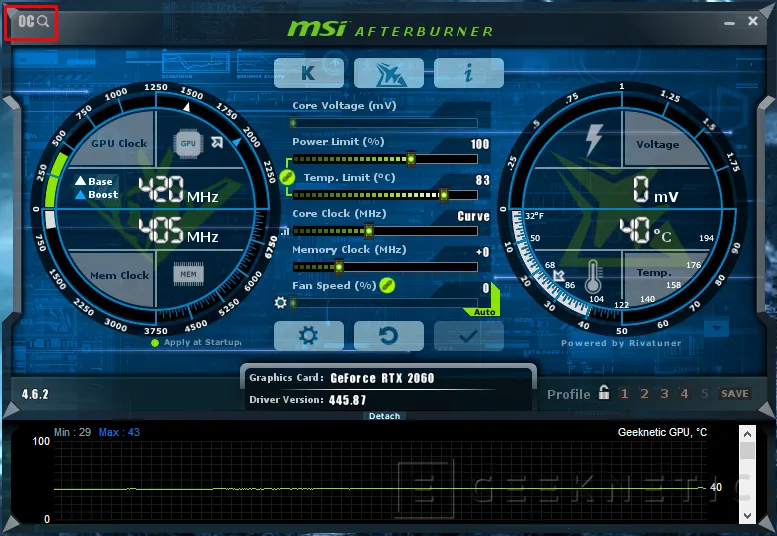 To overclock our graphics card if we do not have the automatic option, or if we want to do it manually, we will have to adjust the power limit, temp. Limit, core clock and memory clock until stable values ​​are found.
As simple as increasing the values ​​in small sections , we click on apply and it only remains to try well with a game or with kombustor. The latter can be installed optionally, although it is highly recommended, if we see that everything is stable we can continue increasing something else to redo the stress test until reaching the chord values ​​without suffering any artifacts .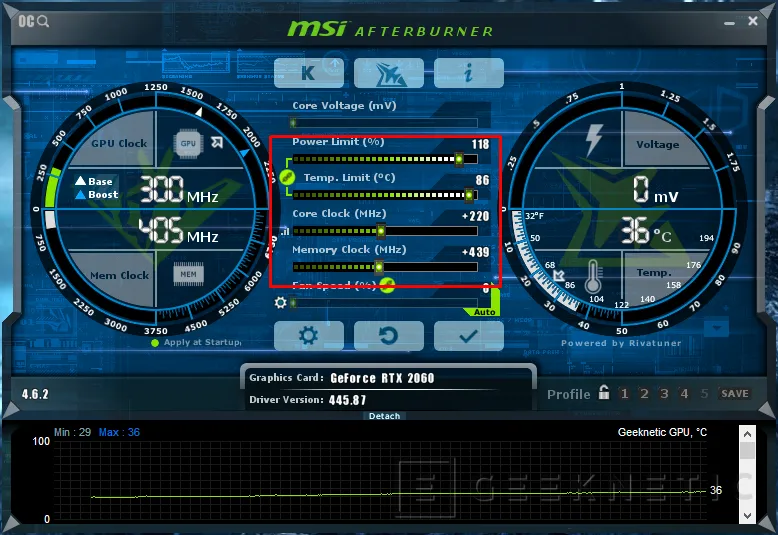 In this section it is advisable to use kombustor , since it is a quick test where the data will be monitored and we will have a summary of these at the end, so we can count the number of artifacts, since if any appear we should lower the values, it is likely that they are too high.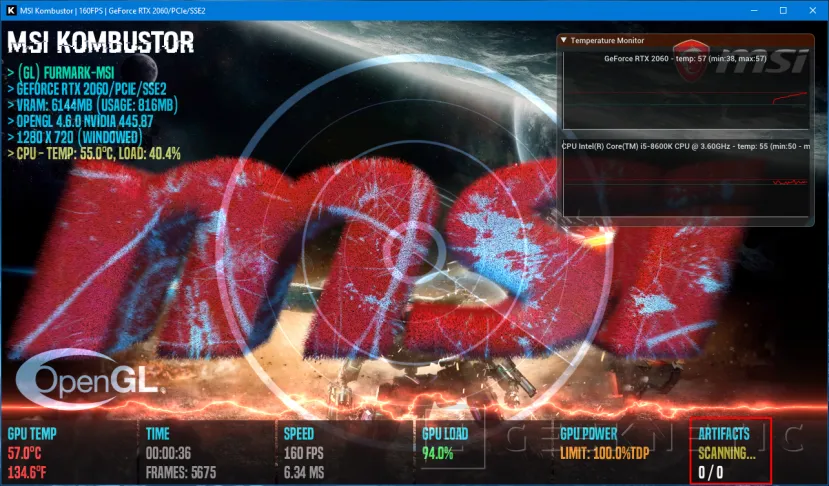 Even so, we have made you a complete guide with all the steps to follow to overclock your card with MSI Afterburner . You can overclock automatically or make much finer and more precise manual adjustments, save it in one of the available profiles and run it when we go to play one of our favorite games.
Thanks to data monitoring, we can watch that our settings go perfectly, otherwise we can make the necessary adjustments until we reach these values.
Downclocking your graphics card with MSI Afterburner to gain heat and save power
The opposite of overclocking would be to perform a downclocking , this is to make modifications to your graphics card to work below its possibilities, with the consequent energy savings and the peace of mind for the fans that this implies, our graphics card will be more relaxed .
We can downclocking if we are going to play some old games , where the GPU load is not high, we can have a quiet environment while playing, we can also save some power by this method.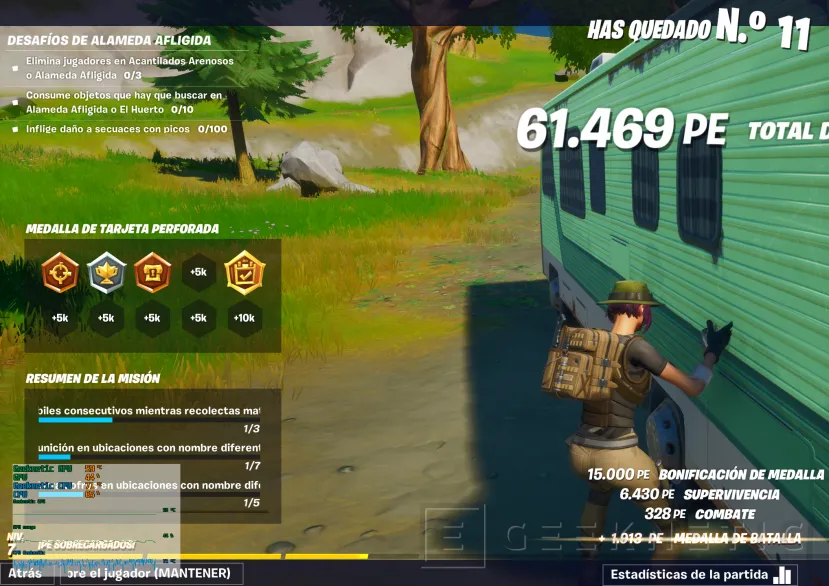 Other situations where this can be ideal are when we work with office automation , if we are going to write a document or spreadsheet or we are going to create a presentation with an office automation package. These jobs do not consume GPU and it is possible to leave it below its recommended values to work quietly and consume less power .
Another occasion in which we can use downclocking is when we are going to watch a movie or we are listening to music , in the same way we can lower these values ​​without fear of running out of GPU power.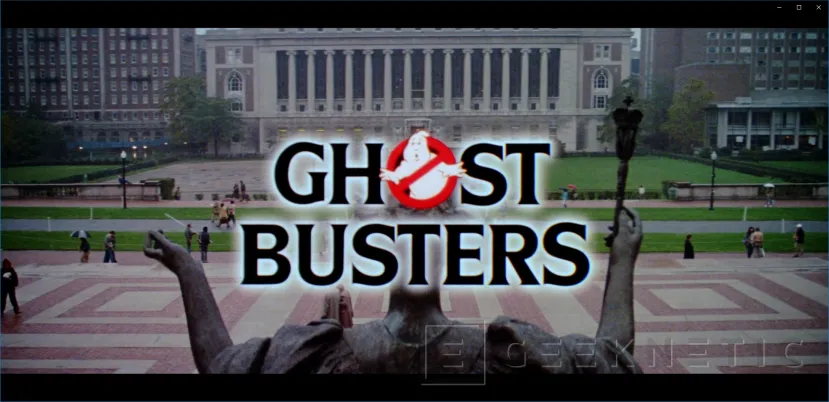 Downclocking your card is very simple, on the contrary that we have done doing overclocking, now we have to put these values ​​of Power Limit, Temp. Limit and Core Clock below the values ​​set by the manufacturer so that the GPU is below its possibilities.
We will move the sliding buttons this time to the left to lower these values , we can test if lowering them to the minimum works correctly, if after performing the tests we need something more power, we will only have to increase these values ​​little by little , unlike what we did with Overclocking. Don't forget to click apply every time you make a change.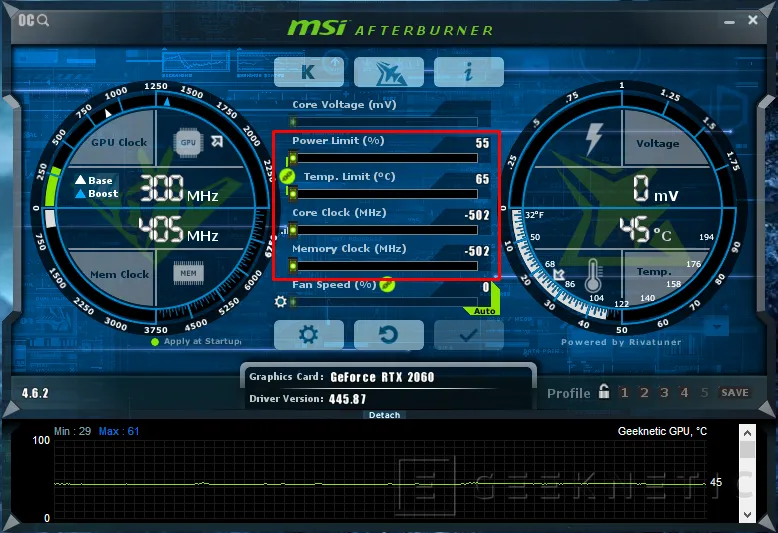 Anyway, here is a guide on how to downclocking your graphics card to lower the temperature and save some energy. As we have done with the overclocking, we can save it in one of the spaces reserved for profiles and thus we can activate it when necessary without having to manually modify these settings again.
Remember to activate the monitoring to have control over the values ​​of the GPU on the screen, so you can monitor if you need more GPU power or if it is fine with the chosen configuration.
Fit fans with a curve in MSI Afterburner
Another of the great options that MSI Aftarburner offers us , is to be able to customize the fans, it is necessary that our card has the option to control the fans through software , otherwise this option will not work.
We have the possibility of leaving this Fan Speed setting on automatic, or we can deactivate the automatic mode and slide the button on the bar and adjust it to the percentage we want, but this value will be fixed. Although we can move to more or less% of operation of the fans depending on the scenario in which we find ourselves, it is still a hassle to have to move it manually.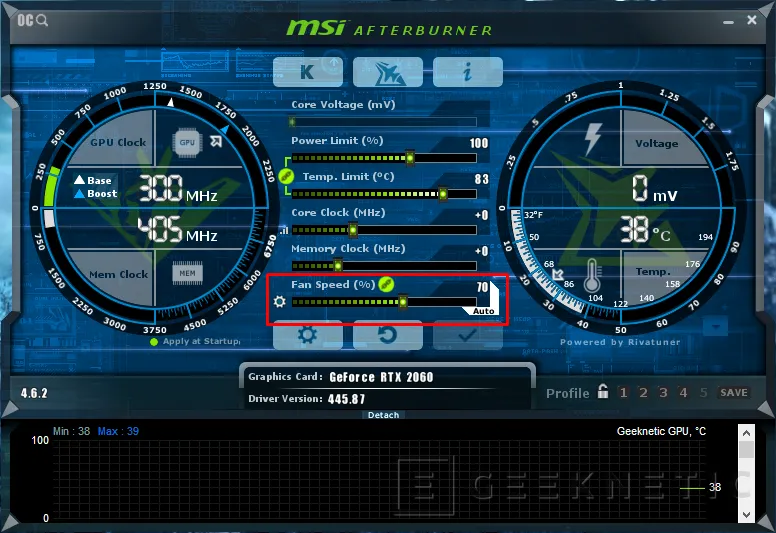 The best option is to be able to make a curve for the fans regardless of the profile or situation in which we find ourselves , since this curve allows us to adapt the power of the fan (s) to the degrees of temperature that the GPU is taking, thus covering all the situations with both idle temperatures or high temperatures when the GPU load is high.
With this curve we can choose the power at which we want the fans to work given a certain temperature of the GPU , in addition we can do this with as many temperature values ​​as we have left, we just have to add one more point on this curve and drag to the GPU temperature values ​​and percentage of fan load.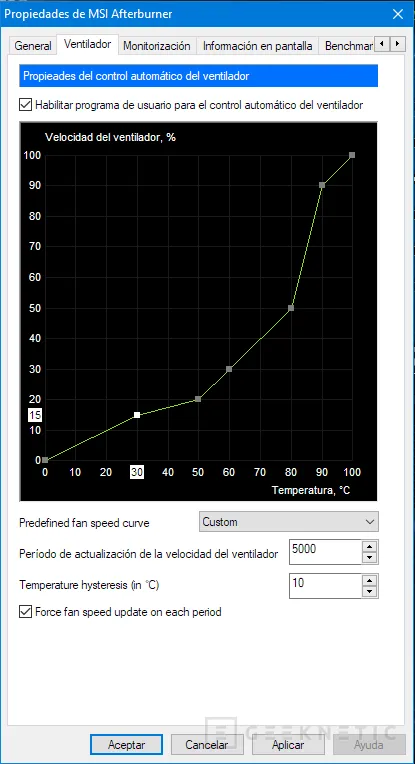 For example, we can make the fans work at 10% of their power when the GPU temperature is at 50º, to then increase this power up to 25% if the GPU temperature rises to 60º. We can move the points that are available or add new ones simply by clicking on a piece of the line. If we click on one of the points, we can delete them by pressing the delete key.
When creating the curve we can make these values progressive or staggered, progressive will take intermediate values ​​between some points and others, and staggered will make the sudden change between values. You have all the information to create the custom ventilation curve with MSI Afterburner step by step in this guide.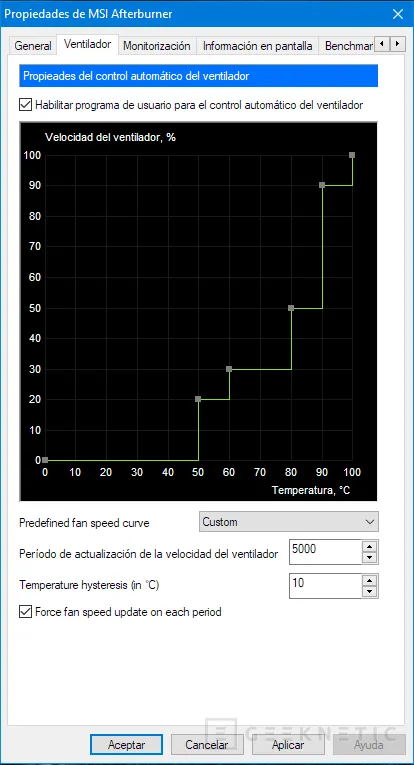 Remember that it is independent of the profiles, once activated it will work with any configuration that we have made.
Customize MSI Afterburner OSD
We can monitor many values ​​of the graphics card or the system in general with MSI Afterburner , but we can also customize these values ​​to show them as numeric or graphics, show FPS, GPU temperature, global CPU or per core, etc. But in addition to being able to visualize these values ​​and many more, it gives us the option to customize the appearance and position of these values.
We call OSD (On Screen Display) the piece where the monitoring data is shown superimposed on any window. This is possible thanks to the software that is installed together with MSI Afterburner, which is called Riva Tuner Statistic Server and we can see it running in the background along with the other application icons.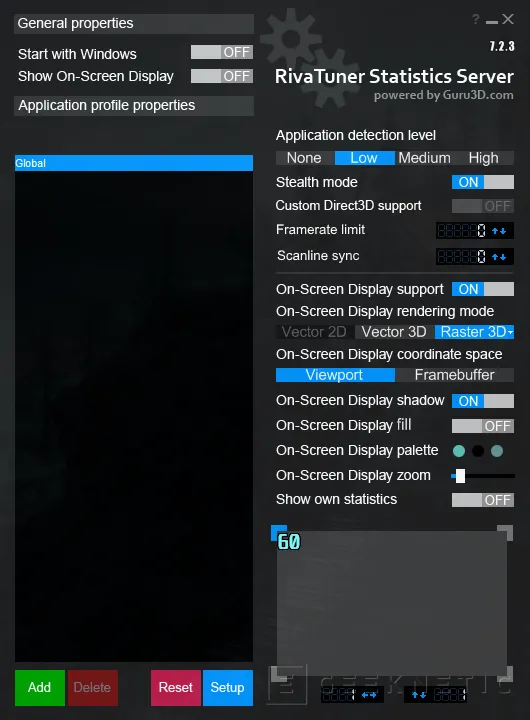 To be able to access the OSD configuration, the vast majority is done from the MSI Afterburner configuration, it is already in charge of communicating with Riva Tuner for the changes we execute. A small part is done from the Riva Tuner software itself, but it is not necessary to open it, we can access it from the more button , which is entering the configuration, in the information tab on the screen.
We enter the configuration by clicking on the cogwheel, and in the monitoring tab we have many of the options to customize the OSD , from this section it gives us the option to add the different values ​​to display in the OSD, such as the FPS, temperature of CPU, GPU, load percentage, etc. We can also choose if we want the numerical value or a graph , which we can also customize.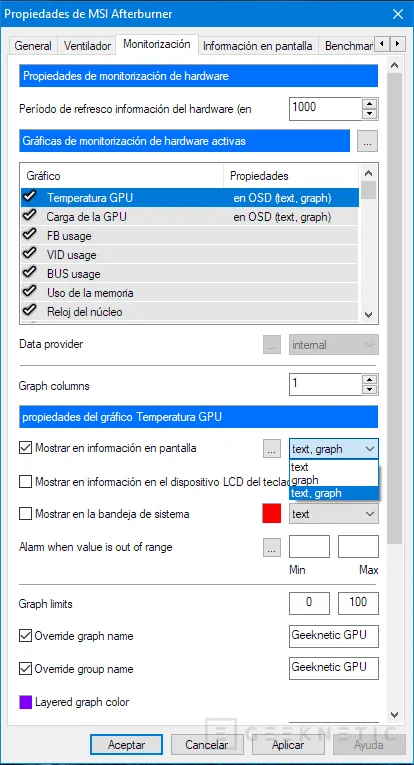 In this section we can configure a visual or sound alarm for both minimum or maximum values ​​of each option that we have active, we can even run a program when it exceeds or falls below these values.
Another option that it offers us is to change the name of these values ​​or graphs and show the ones that we want or are more representative. In addition, there are 3 predefined modes to display the OSD, classic, modern, modern mono and modern web , although in each of them we can also change the color of each option to be displayed.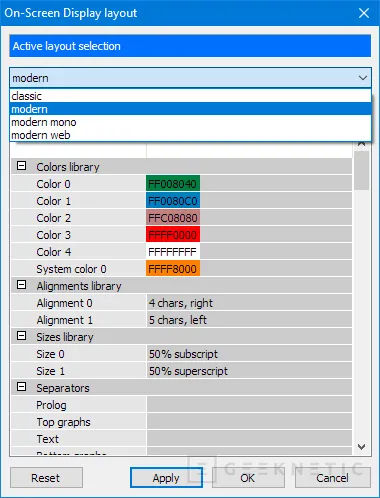 Although the OSD is displayed in the upper left corner by default, we can move it to any of the 4 corners and bring it a few pixels further in so that it is not just stuck in that corner. These options and others such as the zoom for the OSD or the possibility of putting a background to distinguish it better are done directly in Riva Tuner, but accessed through the more button of the Information tab on the screen , within the MSI Afterburner configuration.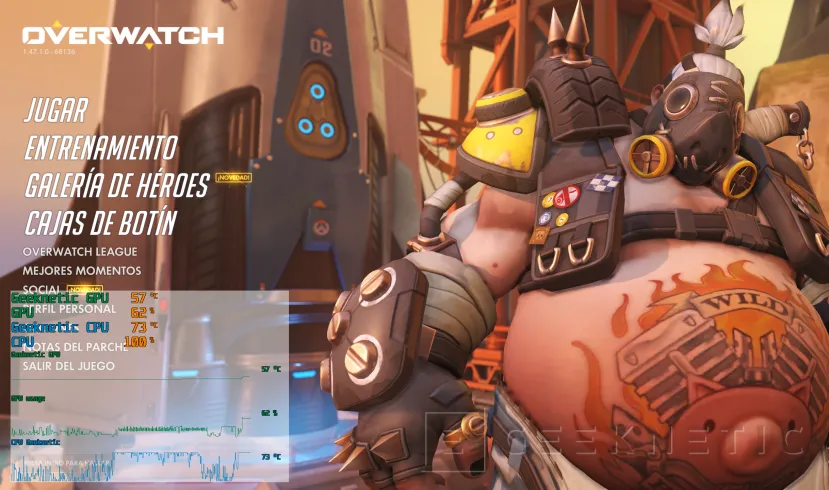 In this same tab we have the option to select the keys that we can use to enable the OSD and the keys to show or hide the OSD. Also the ability to display the system date and time and the option to display OSD information in screenshots and videos.
All these options and some more we teach you to customize them in our guide on how to monitor FPS, temperature, and other values ​​in the MSI Afterburner OSD, where we tell in detail how to access all these options.
Limit FPS with MSI Afterburner to save energy and lower the temperature
There will be certain occasions when we will not need the full potential of our graphics card, especially if we have games that are somewhat old or that do not require much graphic potential . Also if we have a monitor with G-Sync we can limit 2 or 3 FPS less than the update frequency of the monitor to avoid tearing or unexpected flickers .
Also if we do not have Vsync activated and our card is capable of providing more FPS than the monitor's refresh rate, we can limit the FPS so as not to waste resources and in turn save some energy, reduce the noise and temperature of our GPU and also of the CPU .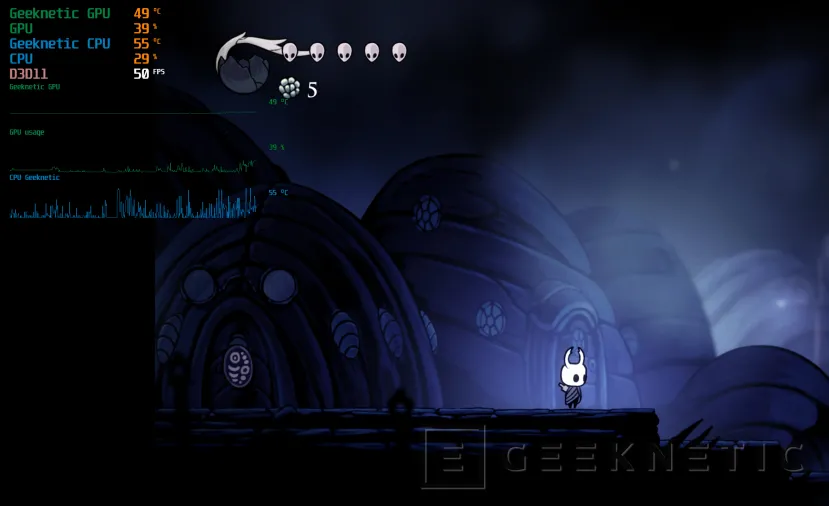 For this we will use an option offered by MSI Afterburner with software that installs Riva Tuner, we will enter the toothed wheel, go to the tab Information on screen and press the button Ma s to open the configuration panel Riva Tuner .
Now we look for the Framerate limit option that should be at 0, we click on the arrows to increase it in steps one by one or we click on 0 and write the value to which we want to limit the FPS , we close the configuration window of Riva Tuner and then we apply and accept the changes in the MSI Afterburner configuration window.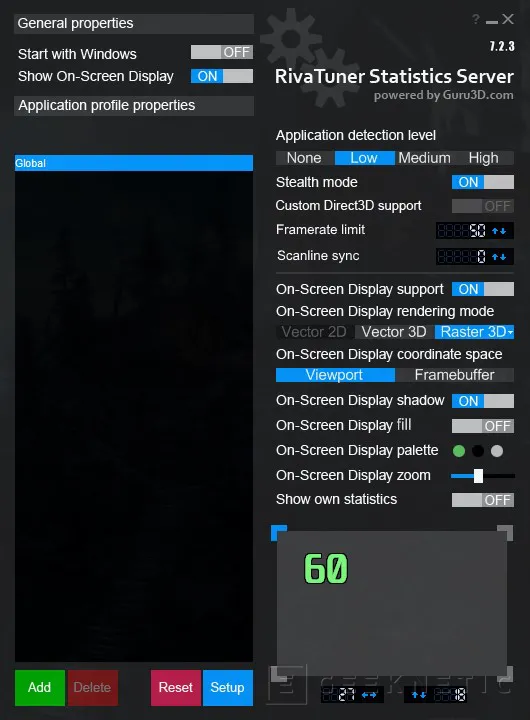 Now we will have limited the FPS to the value that we have written previously, but it is not necessary to always have this option active, since we can configure keys to activate or deactivate it in MSI Afterburner, in our guide on  How to limit FPS with MSI Afterburner we show you in detail how do it step by step.
Conclution
MSI Afterburner is a very complete software that offers us multiple configuration possibilities for our graphics card, allows us to gain FPS by overclocking the GPU, or leaving it more relaxed and with lower temperature and consumption when we perform a downclocking.
We can save in profiles to select between the different scenarios that we can find when working or playing with our PC. In addition, thanks to the possibility of displaying the complete and customizable OSD, we can monitor the values ​​if we have made any changes and be attentive to any anomaly in order to rectify them.

This software is the most complete when it comes to making adjustments to the graphics card , it has many customization or modification options, manual or automatic, and all this with the ease that you have seen in our guides. Of course, we miss a better translation or adjustment of the text of some sections to give it the 10.